I've been asked a few times how I create animations of my little snails.
So, just because I love this site so much I decided to spend two hours typing up a tutorial for you guys.
The animations you've been asking about are .gif files, just like the little emoticons on this forum.
It's possible to, through the right program, put the images in the order you want them, and save them all as one animation.
I have a little $15 webcam from wal mart... My aquarium is close enough to be in cord-range. I just set it in one place, and take pictures with the camera program included with the device.
The simplest thing you could do to make your .gif files is using
Microsoft Gif Animator
http://www.toggle.com/lv/software/download/kl1695.htm
With this program, you can just drag-and-drop the pictures into place.
To use MS Gif Animator, any images you wish to use
will have to already be .gif files.
Don't panic if they're not .gif files. You can fix that!
You can either change your camera settings to save the images as .gif, or you can open the images in a separate program, save them as .gifs, or edit them before saving.
Be very careful though, .gif animations can end up as huge monster files if you're not careful, so I recommend editing them to a manageable size before saving them as .gif files.
There are countless programs that can help you do this. Any program that can edit photos should work.
If you don't want to go through any hassle, there's always MS Paint, which should be on most systems.
Personally, I wouldn't recommend it unless you're comfortable with your image quality going down a bit.
As an example: Here's a fluffy kitty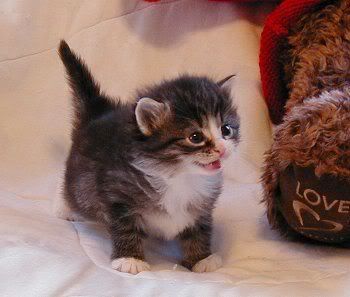 Isn't it cute?
Here's the same fluffy kitty, saved in .gif format on MS Paint: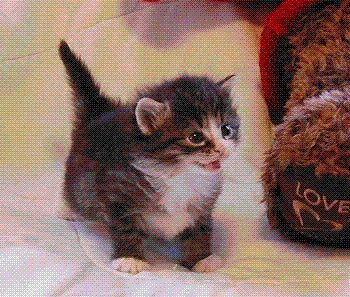 It's not too different, but I'm too much of a perfectionist to accept it in my own work.
But chances are that if you have a digital camera, it came with some sort of software that would allow you to make minor changes to your picture.
You should easily be able to save it as a .gif in one of those.
If not, there are free programs everywhere that will allow you to convert your image to a .gif
Using MS Gif Animator is really simple, as I said. You just drag and drop.
I usually keep a folder with the images open while I do so.
Every image you drag and drop into the window is a frame of the .gif.
To keep my .gif files from being too big, I usually like to keep them below 30 frames.
After that's done, click the Animation tab near the top, and make sure you have the "Looping," and "Repeat Forever" boxes checked. Then move on to the
Image tab.
There's only three things you need to worry about while in this tab.
The Select All button, the Duration, and the Preview button.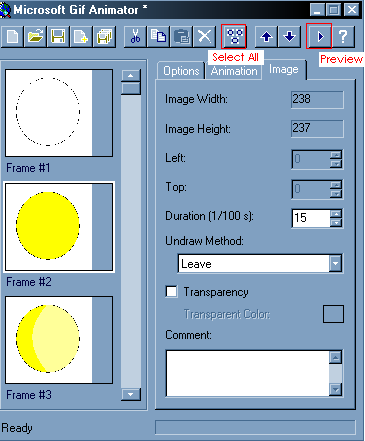 Pretty much you just select all, play with numbers in the duration box, and preview it until it's going the speed you want it.
I usually keep my .gifs in the 10-20 range.
Afterwards, save, and you're done!
As a bonus, here's one of my first .gifs of Lemon. She almost let me catch her opening!
Happy snailwatching, my friends.