Here is one of 4 20 gallon tanks tied to a common sump system:
You can see it is one of my growout tanks and is loaded with snails, endlers and crays. The red ones are red rams. I keep loads of fast growing guppy grass (Najas) and African Frogbit on the surface.
Here is a top view of 2 of the tanks:
The lights are Walmart shoplights with daylight bulbs. This ends up costing me $20 to light 2 tanks. You can see the frogbit floating. This is after selling a gallon of the plant this week. The risers with the tubing going to it is is the supply of water to the tanks. Pond pumps in the sump pump the water up to the tank.
Here is where the water comes in:
You can see I leave plenty of head room for the snails to lay. This is key to keeping them from roaming. The floor is carpeted with indoor/outdoor carpeting just in case.
The water drains through a screened port to prevent the wee ones from going overboard:
Here is the common drain plumbing: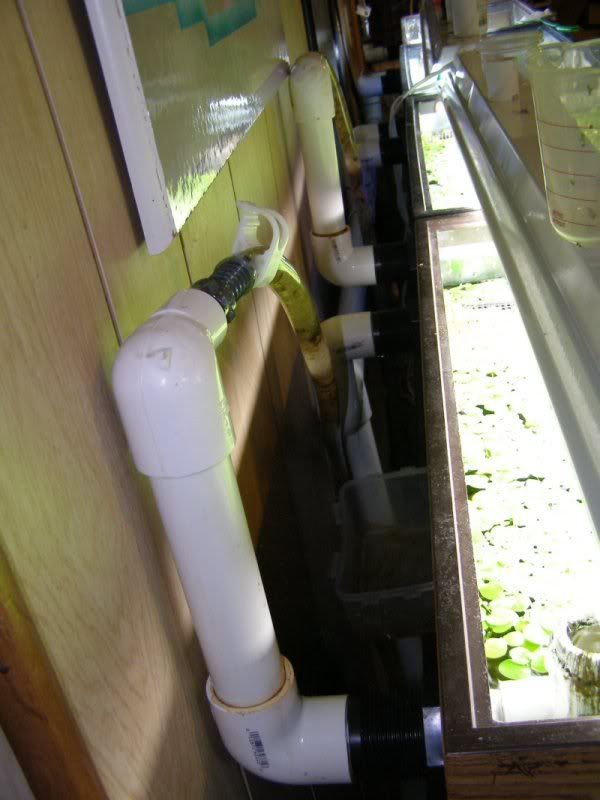 The tanks are drilled to accept bulkhead fittings that mate to PVC pipe.
This drains to my homebrew filter: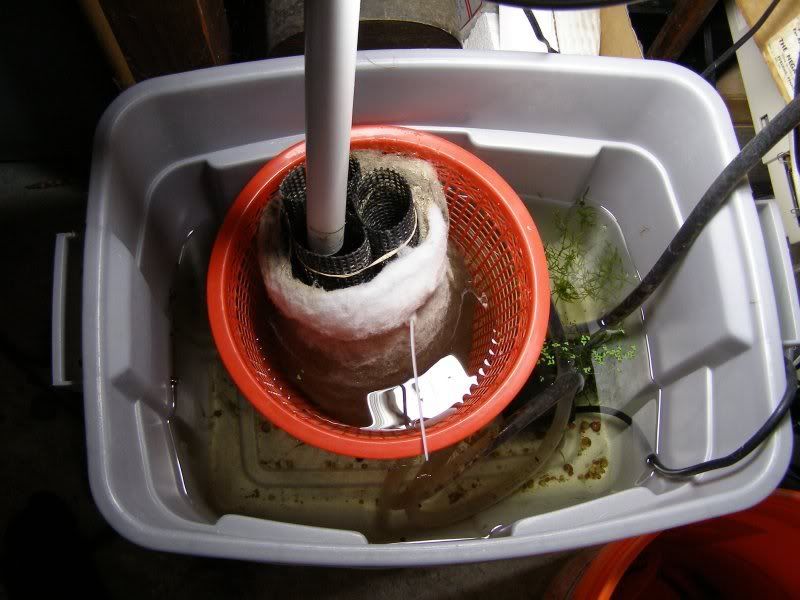 The filter material is wrapped around filter tubing like I use for the drain. Three are put together to make a large opening. The bottoms are capped and then Dacron batting is wrapped around and held in place with tie wraps. A small laundry basket helps hold it up.
Also in the sump is the pumps and heater. I normally keep a light over the sump and grow more plants there too.
The stand is made of 4 pressure treated 4X4's stacked on concrete blocks. The sump sits under it.