I am still trying to find a species name for these guys, since usually they are just labeled as Trochus sp. or Turbo sp. I am leaning towards Turbo undulatus, but not sure yet. Anyway, as marine snails go, this is the cana-equivalent: they eat like a pigs and love to walk on hands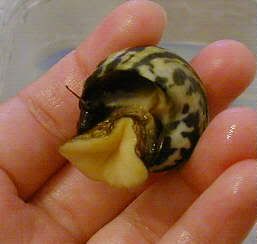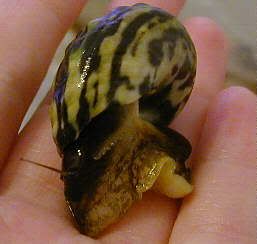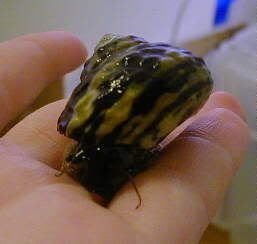 This one is just a baby. They get larger, but tuntil I know the species name I'm not sure what the maximum size is. One of the things I find interesting in comparing Turbo species to freshwater snails is their control over the cephalic tentacles. Apple snail tentacles are wavey without much direction and are limp noodles out of the water, but turbo snails have an amazing amount of control over their feelers both in and out of the water. I figure it must be a difference in the strength of the current they're adapted for.
So, if anyone out there has a nice big seashell collection with species labels....