Not what I usually say about snails, but...be cautious handling large individuals of this species unless you're holding them by the shell. I had one sucked onto my hand today for about 15 minutes and couldn't get it off until I convinced it to walk onto another object. They are capable of extreemly strong suction onto whatever surface they're attached to, so it becomes an issue of prying the foot free, which puts the snail at risk for injury. Needless to say they're quite friendly lol.
Turbo fluctuosa is this species: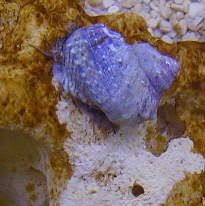 Not all are blue (and the picture might be making it a little bluer than it actually is). There's a fair amount of color variation from tan/cream to dark brown to blue. The brown stuff is diatom algae, and the white area was brown a few minutes before the snail found it. The species is also listed in some places as T. fluctuosus, so I'm not sure which name is the accepted one.