Well I've been off having the life sucked out of me by an internship and working on too many degrees at the same time and a dysfunctional e-mail that seems to receive mail from some places and has quit giving me errors when it's not delivering mail and...RANT RANT RANT
AAaauuuughhhh...I'll have some freshwater updates too, but sw stuff is what I pulled off the camera first.
Anyway, I've seen some pretty fascinating stuff over the last year exploring the world of marine gastropods outside Nerites. Among other things, I've been bitten, cut, stung, and jabbed more times than I'd like to count. I also had some biological disasters that are just an occurance in the early stages of saltwater tanks unfortunately. I'd like to share some pics of the gastropods and things I've got running around...please keep in mind, the tank with most of this stuff has been running for over a year and I do not recommend venturing into a tank like this without doing heavy amounts of reading. Not doing research before this stuff can be a hazard not just to the animals' health, but also to your health, since marine systems often get colonized by animals that can bite/sting/etc. Rule of thumb: wear gloves when possible.
A before & after...the before is under regular freshwater lighting.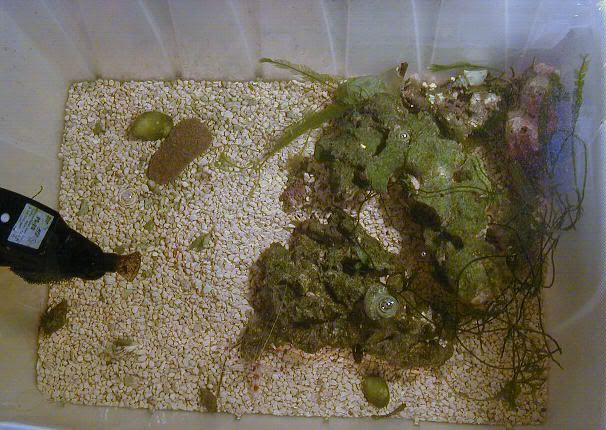 and now looks like this after having put a desk lamp that is really metal halide onto it (around 8-10wpg), thereby allowing the macroalgae to go nuts: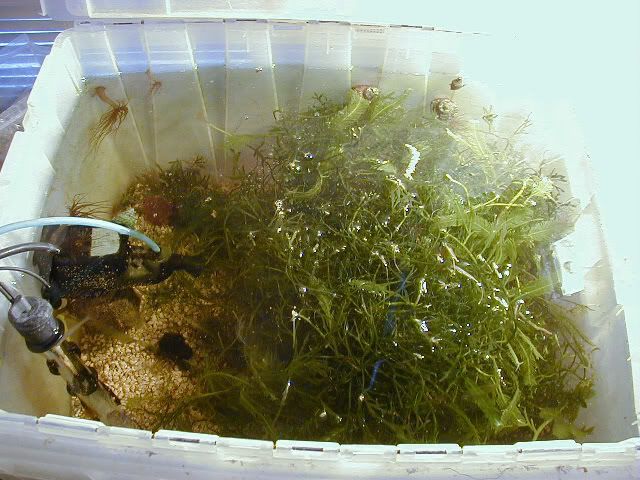 The tank seems to be putting out more biomass than I am putting into it, which I can only attribute to CO2 assimilation by the macro algae. It is growing about 1/2-1 handful of plant
per day
. In addition to some supplimental feeding I give the snails (since the macro algae isn't a complete diet for most of the species), it is supporting 3 large Turbo fluctuosa, one Trochus, some young conches, and a wierd as-of-yet unidentified spikey snail. Every 2-3 weeks I have to harvest the algae growth and trade it to a local store. Basically if I don't do that, I run the risk of the tank overgrowing and killing me in my sleep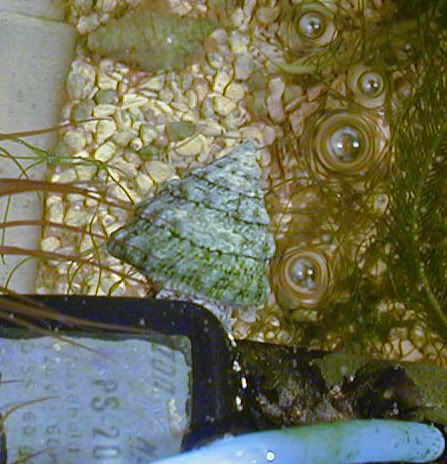 This is the Trochus species. Not a lot to say about it since it doesn't do much interesting...just does laps around the tank and leaves a trail that is micro-algae free. Sometimes it wades into the macro algae to browse. Not as interesting a species to me as apple snails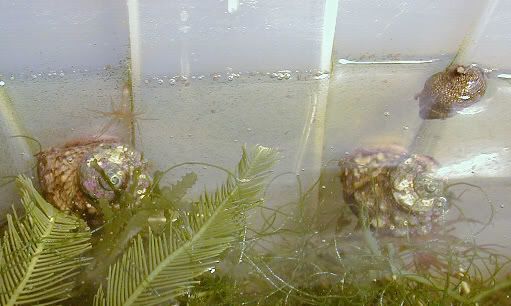 2 of my 3 Turbos. They are very friendly, and they spawned in my tank recently. I spotted baby snails briefly, but I have the sinking feeling that they may have been had by other predatory invertebrates (not ones I added...this stuff literally grows out of the rockwork over time) lurking in the tank. At any rate, the spawn is a good success and means they are quite happy with the conditions. I'm hoping for another go at it over the summer if I can catch future baby snails and isolate them.
There is also a Cerith species of some sort in the upper right. Those guys may have spawned in the tank earlier...I'm not sure. I seem to have a couple too many of them, and can't figure out how it happened.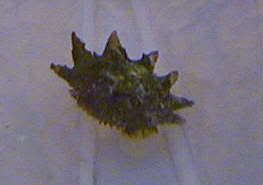 Not sure if I've posted this pic before? It's the only decent picture I have of my weird unidentified spikey snail. It's basically unhandlable because the spines around the whorles have sharp edges, and it has little needle-like spines on the bottom of its shell. The LFS gave it to me because they didn't know what to do with it and didn't know what it ate
it's been going happily for a year now.
And some other gastropods that arn't snails....these can only be in the tank because of the outlandish macroalgae situation I've wound up with. They would can't just be in any old tank and survive, and can even pose a hazard in some cases.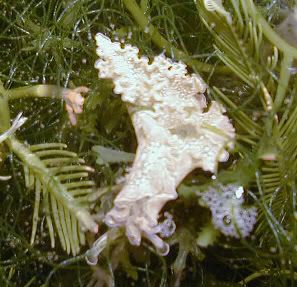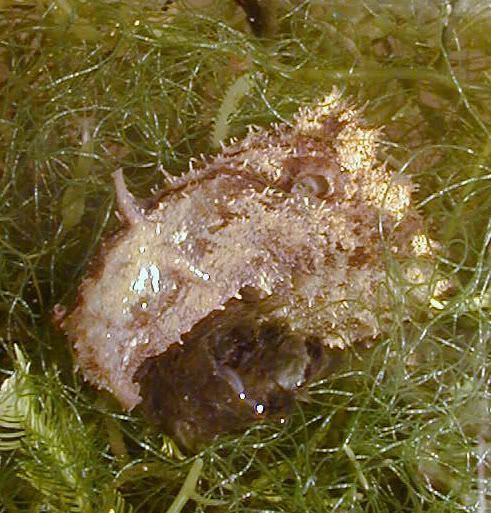 These are the main macro-algae control, since that is basically exclusively their diet (top one is actually light green...camera washed it out). The top one sucks the juices out of the algae stems, and the bottom one just kinda eats everything. The one on the bottom is basically a big naked apple snail, right down to the eye structure and the mouth parts. Pretty amazing similarity really. It's like a big lump of hairy, warmish sillyputty when in-hand. Top one is too wiggly to handle, and it is photosynthetic because it steals chloroplasts from the algae it eats
yep, photosynthetic gastropods. That was a new one to me.
Also, I may as well put it in the same message...some of the weird/dangerous/annoying stuff I have had to put up with along the way...these are some of the hazards of marine keeping. I can't emphasize enough:
these are the things that have nailed me in terms of bites and stings.
The animals pictured below, although they can be ecologically beneficial in a tank, are not your hand's friend--they often come into marine tanks by accident and appear unexpectedly. Don't touch stuff like this unless you are absolutely sure the species is harmless or are or are wearing thick gloves! These are part of the reason why handling live rock with gloves is important.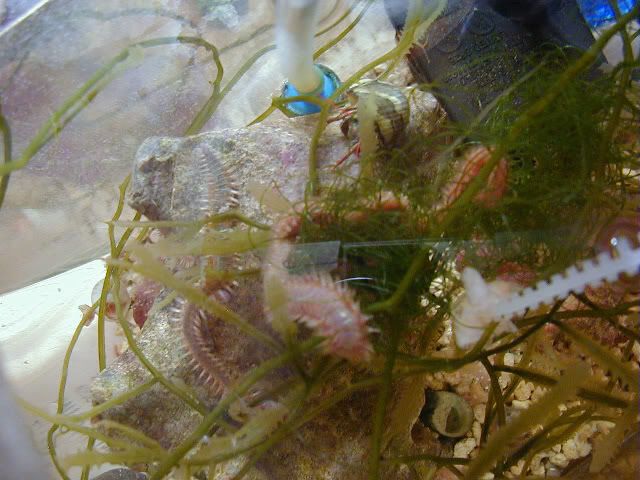 Fireworms. 12" fireworms in this case. Most of mine arn't this big, but fluffy one and fluffy two started harassing the snails, so I had to evict them to a 1 gallon saltwater bowl on my desk. They are very predatory, and those bristles on them break like fiberglass on skin contact. I suspect these guys of having picked off my baby Turbos (unless they materialize again), and I have a scar on my wrist from being bitten by a smaller individual. Lovely animals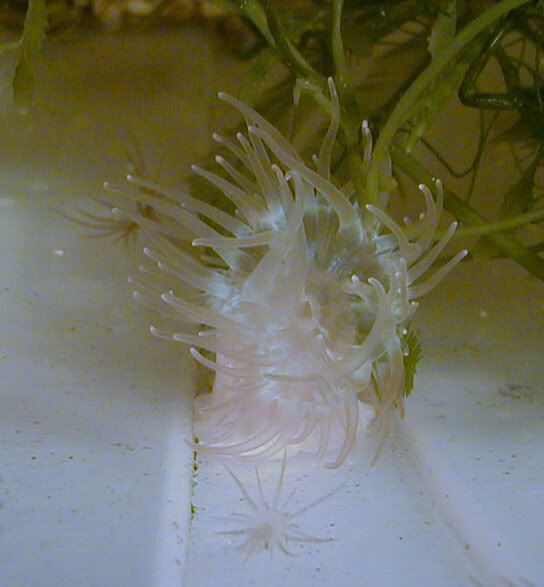 Came in as a white nib on a rock, now 2" and stings like the dickens. Gastropods seem immune to it (thick slime coat perhaps?), since I've watched many snails and opisthobranchs go right up and give it a good shove. However, this anemone has killed quite a few fireworms that got too close, so not everything is immune.
Corallimiorphs...of an unidentified species. They look cute, but they are very predatory and can eat things close to twice their size. This type can also sting, although not so much to humans. Mainly they sting other inverts, some snails included (although conches seem immune?? Strange stuff). They were a freak occurance in my tanks since they rarely breed so prolifically in captivity.