I don't know what happened but just a few minutes ago I saw Kol, one of my first apple snails, floating at the top out of her shell and it looks like they may have already started eating at her
. I'm amazed at how sad one can be after the loss of snail. But I can't bring myself to cry in front of my folks who though they said "oh no, I'm sorry." I don't think they'd really "get" it, since they aren't interactive pets like dogs, cats, or even Betta fish. Still, the tears are coming as I sit by myself typing this.
I put her in the fridge and soon the freezer just in case somehow she wasn't dead (though as I said it looks like they were starting to eat at her). She laid a good sized clutch today before passing. She laid a good deal of clutches and was a full grown adult when I got her (no idea what age, but larger than the other snails in the tank and always the largest of the remaining apple snails I have). Even though I add Kent liquid calcium to the water and provide higher-calcium vegetables, once out of the shell I can see that her shell is very thin, I noticed the other one I got from the same place also has a thin/more fragile shells (came to me with dents in the shell).
Here she is laying her first clutch;
Eating some organic zucchini next to Sunburst (another female);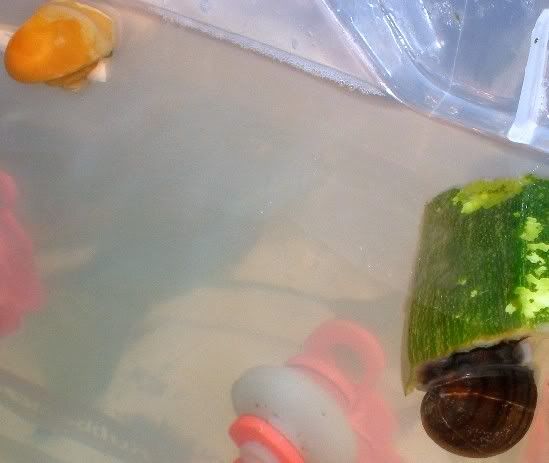 First day home;