| | |
| --- | --- |
| The Keong Emas Imax Theater | |
The "Keong Emas", Golden Snail, Imax Theather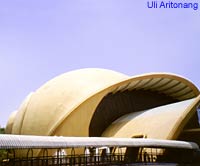 The Keong Emas Theater in Jakarta.
(picture not licenced under creative commons)
"Keong Emas" is the Indonesian translation for "Golden Snail". The Golden snail, perhaps better known as the Golden Apple Snail (Pomacea canaliculata), first got attention in Indonesia in the early 80's. Although the Golden Apple Snail was considered to be an agricultural pest, in that era the snails were also cultivated as a human food source. A new, apple snail based cuisine was founded and many farmers started to grow these snails in their ponds.
The snails became very popular, even to that extent that the president and his wife, the late Madame Tien Suharto, initiated the build of a theater, with an architecture referring to the Golden Apple Snail. The whole complex was painted in the same colour as the snail (golden yellow) and called the "Keong Emas Imax Theater". The theater was first open to the public on April 20, 1984 and it's enormous screen, using the latest Imax System, has been listed in the Guinness Book of Records as the largest screen in the world during the 1985, 1986, 1987, 1988, 1989, 1990 and 1991 edition. This theater is located in East Jakarta, in the complex area of Taman Mini Indonesia Indah (The Miniature of Indonesia Park) which was also built on the initiative of Madame Tien Suharto.
The Keong Emas Imax Theater has become one of the most popular attractions where lots of tourists, domestic and foreign, young and adult, especially groups of children visit. Besides the large dimension of the screen, the theater also has another feature that makes it attractive: the films are displayed in three dimensions (3D). The subjects of the movies on display are mainly "Beautiful Indonesia" related to its culture and art, as well as its environment and the places around Indonesia. All in all, the main purpose of the movies is to highlight Indonesia's beauty on the big screen and attract tourism.
Despite its grand snail's architecture, not a single movie related to the Golden Apple Snail has been shown to date. As a matter of fact there does not seem to be any reference at all in this theater which is related to these Golden Snails, nor in the written documentation, nor in movie archives. Perhaps someday, one of us snail freaks, go into the (3D-) film business to create a movie about these fascinating snails and maybe that movie will one day be shown in the Keong Emas Imax Theater.
Unlike the success of the Keong Emas Imax Theater, the Golden Apple Snail cuisine business did not go very far. Many people who ate them claimed to get sick. Although the sicknesses have never been reported or published officially, the golden apple snail cuisine has slowly disappeared from the market. In the later days, more or less three years ago, the cuisine business has completely vanished and the farmers stopped to raise Golden Snails.
Uli Aritonang, October 2000.

'Recipes' section, 'Snail parasites' section and 'Snail eradication' section.